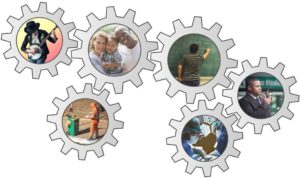 Editorial
Oftentimes, one can stumble across the term "localisation" connected with translation services, but not everybody knows the difference between those two processes. Let me try
More »
Oftentimes, one can stumble across the term "localisation" connected with translation services, but not everybody knows the difference between those two processes. Let me try
More »
Legal Disclaimer: what you find below are author's private opinions. His intention is NOT to advocate against any company or tool. Every professional translator needs
More »
If you run your website on WordPress, you probably already know that WP doesn't provide functionality necessary to create several language versions of the same
More »
For many years, video games used to be considered something nerdy and childish. It was common for gamers to be frowned upon and ridiculed for
More »
Six months ago, I became a professional translator. I work with the Polish-English language pair. I'm still a rookie, but over these past few months
More »
Machine translation keeps getting better. You might think that its development poses a threat to professional translators. I believe that translators of the Polish language
More »
Sometimes, we are commissioned to translate Microsoft Powerpoint presentations. Usually, customers don't realise that translating texts used in such a presentation may not be enough.
More »
Is the process of translation creative or not? There is no obvious answer to this question. On the one hand, you could argue that translation
More »
Recently, I have been asked to translate the English word "potluck" into Polish. My response was that I do not know such word, which is
More »
Every professional translator is also a proofreader, as he or she must verify any text before sending it back to the customer. Such proofreading is
More »
"You think you know but you have no idea…" I have been wondering this for a long time: what's the biggest pitfall of translators? The
More »
Quite often, customers treat translations of their materials with neglect, as a "necessary evil". They realise that it is needed, but they don't think of
More »
"Proofreading" is a catch-all term used by most non-translators, including the clients of translators, to describe all actions aimed at improving the quality of a
More »
In translations, context is the king. It seems obvious, but oftentimes the reality is quite different. Sometimes customers think that providing a source material for
More »
As we all know, practice makes perfect. I personally believe that you can't be a good translator until you translate a few million of words.
More »
When thinking about a career in translations, many people have to answer the question of what skills are required to succeed. Is language proficiency enough?
More »
Perhaps nothing is more challenging for a translator than attempting to translate a text written in English by someone whose grasp of that language is,
More »
When translating English text into other languages, you might sometimes be tempted to use machine translation to speed up your work. In some languages, for
More »
There's a popular saying among translators, which reads "Dictionaries are like watches – even the best one is not entirely correct, but the worst one
More »
Check out our company blog.All texts represent private opinions of our employees exercising the freedom of expression, and are not necessarily compliant
with the official standing of the company (our lawyer told us to put it here ;-))

If you find our content to be useful, feel free to link to it or use the social sharing buttons, however we warn you against copying it.